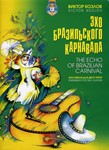 Sheet music for guitar written by Viktor Kozlov are fascinating for their timbral variety, use of color techniques. And after all, everything in moderation and on topic. For example, in the illustrated book "the Echo Brazilian carnival" you´ll find the sheet music for a duet of guitars based on lively Latin rhythms. How much passion and fire!
In the "Payment via ..." is a drop-down list.
In it you can choose convenient for you payment method.
No feedback yet